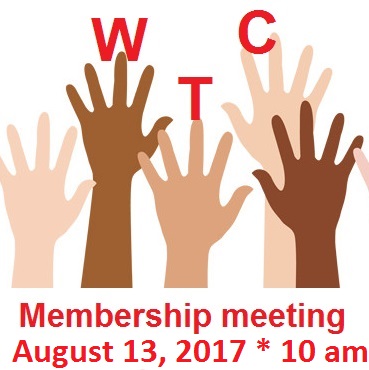 Mark your calendars! 8/13/2017
A traditional annual 10 am coffee house meeting @  Mestizo (641 N Temple #700, Salt Lake City, UT 84116)
Elections of the officers – need your nominations!
all members are invited to participate in this meeting. We will hold elections and vote on the following offices: 
President
Vice President
Secretary
Treasurer
Board Members (three positions)
Also on the agenda: Review of WTC's work in 2016-2017 & choosing our best path forward.
If you are interested in filling a position please contact one of the current officers for more information. If you have someone you'd like to nominate for a position, or someone you think would do great, please turn in your nomination to a current officer by August 10th to leave time for that person to be contacted.
Current officers and Board Members:

Christopher Neville, Guadalupe Rodriguez, Dmitry Pruss, Brian Salisbury, Florencia Yapura, Julianne Basinger, Stephanie Herrig
We will be collecting $10.00 membership dues (you must be a paid member to vote) and will report on club activity and discuss any issues brought to the table.
We look forward to seeing all your faces and to the run of another fantastic year for Wasatch Tango Club!
Not a member yet? Join the WTC in time for the meeting and help shaping the plans of the club!