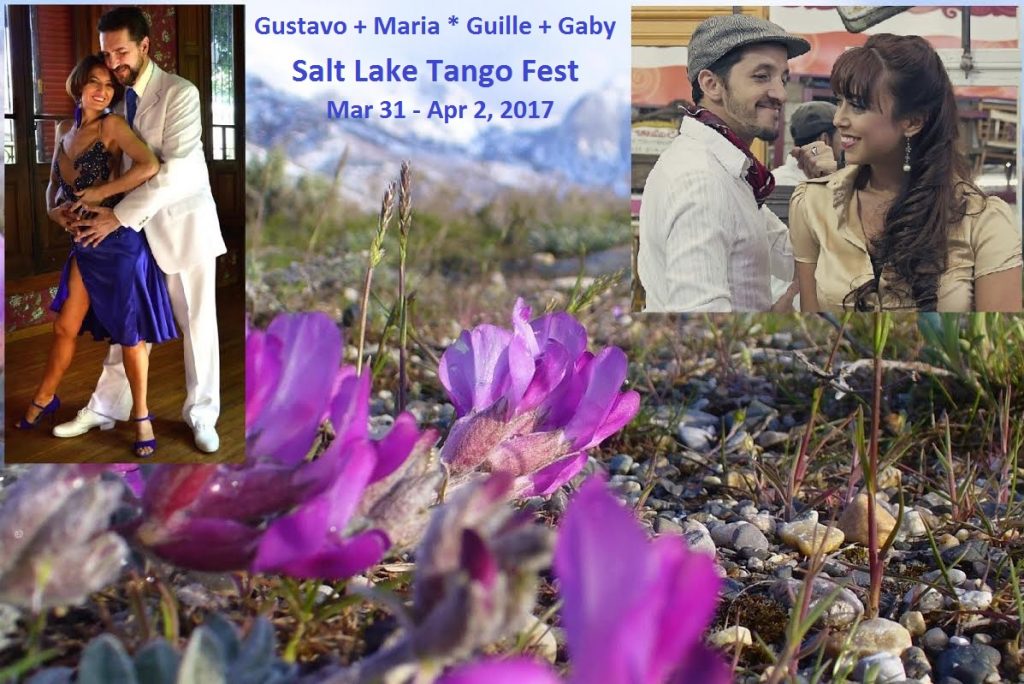 March 31 – April 2, 2017
REGISTRATION IS OPEN
Super-early bird limited edition $120 pass 
Early bird $155 pass (the price will be $165 at the door)
---
Our spring festival of tango features two pairs of Argentine teachers from Buenos Aires – Gustavo Benzecry Saba and Maria Olivera, and Guillermo Cerneaz and Gaby Mataloni !
Invited DJs John Miller (Colorado), Randy Alan Fisher (Michigan), Tommy Smith (Idaho) .
9 classes, 5 milongas, screening Gustavo's documentary "History of the Tango Dance", on-site massages with Jesica Cutler & more details and specials coming soon!
---
Documentary screening – first time in the Intermountain West! (DF Studio, 2978 State St, South Salt Lake, UT)
Sunday April 2, 11:00 am – 1:00 pm:
Gustavo Benzecry Saba "Historia de Tango Danza" (subtitled in English), followed by a Q&A session:  (Brunch provided) $10 (not included in the full pass)
---
Classes schedule (DF Studio, 2978 State St, South Salt Lake, UT)
Friday March 31, 7:30 pm – 9:00 pm:
Guille & Gabi. "Giros: turning and turning them on!":  (All levels) $25
Saturday April 1, 11:00 am – 12:30 pm
Gustavo & Maria "Tango – Musicality and decorations. (How to choose your vocabulary according to the kind of music, to squeeze all the juice out of it!)":  (Int) $25
Saturday April 1, 12:45 pm – 2:15 pm
Gustavo & Maria "Milonga Lisa vs. Milonga Traspié: Techniques and vocabulary for each one.":  (Int) $25
Saturday April 1, 2:30 pm – 4:00 pm
Guille & Gabi "Syncopations 101: an easy way to get them" :  (Int) $25
Saturday April 1, 4:15 pm – 5:45 pm
Guille & Gabi "Vals steps, doable and enjoyable :)" :  (Int) $25
Sunday April 2, 1:00 pm – 2:30 pm
Gustavo & Maria "Vals: Spinning around the line of dance":  (Int/Adv) $25
Guille & Gabi "I move, you move, we move together: applying elastics, blockings and releasings":  (Int/Adv) $25
Sunday April 2, 3:00 pm – 4:30 pm
Gustavo & Maria "Tango: Changes of axis and dynamics":  (Adv) $25
Guille & Gabi "Boleos: letting the spiral be!":  (Adv) $25
---
Milonga schedule draft
Friday March 31, 9:00 pm – 2:00 am at DF Studio:
Milonga de Primavera $15
Saturday April 1, 6:30 pm – 8:30 pm at DF Studio:
Practica, guided by Tommy Smith and Joni Roco $10
Saturday April 1, 8:30 pm – 2 am at DF Studio
Grand Milonga (DJ  John) – Demo: Gustavo & Maria, Guillermo & Gaby $25
Sunday April 2, 7:30 pm – 11:30 pm 
Milonga de Abrazos (DF Dance Studio) $10
Sunday April 2, midnight – ??? 
Milonga Trasnochanda com Medialunas (Garbett Center for Choral Arts, 700 N 200 W, Salt Lake City) $10

---
MAESTROS
Internationally renown maestros Gustavo Benzecry Saba and Maria Olivera are back in the Intermountain West!
Gustavo started dancing in the late '90s, studying from milongueros and stage performers. In 2003 he met María and they started teaching together at the famous Salón Canning, in Buenos Aires.
Their teaching method is both precise and gradual. Because of this, they're among the most popular teachers. They regularly teach workshops in their home town and in international festival and events. Their kindness and good sense of humor make the learning very effective for the students. Gustavo is patient and reflective, María brings dynamism and clarity in the concepts.  Together they also work hard on promoting the Tango as a culture. Gustavo has written several books ( translated into many languages) and with María they've produced instructional DVDs on techniques for leaders and followers as well as an amazing documentary on the history of the tango dance.
We are elated to tell you about our 2nd teacher couple, the young, dynamic, warm, and super-fun Guillermo Cermeaz and Gaby Mataloni from Buenos Aires! They opened their first US tour with an amazing success at our Fest, and it's fantastic to welcome them back! Guille and Gaby bring with them 15 years of teaching experience.
We are excited to welcome back John Miller (this time DJing our opening milonga) and Jesica Cutler!
John Miller approaches Tango with the sharp mind of an academic, the obsessive determination of a coffee addict, and the soul of a poet. He began dancing at the age of 18, never suspecting that Tango would eventually take over his entire life. Originally trained as a Linguist, he eventually found himself at the milongas every night of the week and decided to pursue a career in Tango over one in Medieval French studies. He has been teaching full time since 2009 and presently gives weekly classes in Denver, Boulder, Colorado Springs, and Golden. John is one of the most popular DJs in Colorado, and plays an average of 140 nights a year. He has DJed across North America at many festivals and milongas, including the UTango Festival in Salt Lake City, Burning Tango in McCloud, the Albuquerque Tango Festival, the Denver Tango Festival, the Natural Tango Festival, Tango Encuentro in Boulder, Mala Leche in New York City, and the Toronto Tango Experience. In his dance and in his teaching, John strives for clarity, precision, and elegance.
Jesica Cutler will provide on-site massages.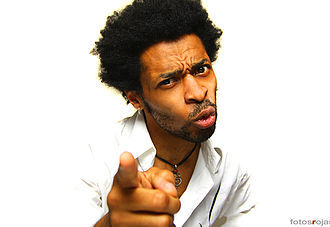 Randy Alan Fisher is an incredibly talented dancer and DJ (both traditional and alternative), famous for his creative and friendly attitude. We are happy to welcome Alan on his first visit to Utah – don't miss it! Randy's first conscious connection to Argentine Tango was when Astor Piazzolla died in 1992 and he heard the NPR radio special that featured the entire Luna album along with a biography. He was hooked because he grew up listening to Jazz and Classical and loves music in general. Curiously he started to investigate the riff between tango for dancing and Piazzola's tango. In 2000, the dancing and cultural immersion portion came by way of trying to choreograph an aerial circus routine and there was no one to help him at that time. So a trip to Buenos Aires was in order. He started with Traditional tango, Argentine folklore, Candombe, and Murga with a full plate of dancing circus arts took a backseat. Randy loves dance anthropology and the cultural context surrounding dance and the greater implications of specific music and dance in regular life. Randy is about fully diving in, be it music, culture or dance, he bursting with curiosity, he lets the path present itself, he always has a goal but open ended to include all the paths, sites and smells of the journey. He is constantly observing and always learning something and now sharing his culminations
(more details coming soon!)
Get ready for a fantastic weekend of tango celebration!

Save